HOW TO INSTALL AGENCY POWER COLD AIR INTAKE SYSTEM ON SUBARU BRZ / SCION FR-S / TOYOTA 86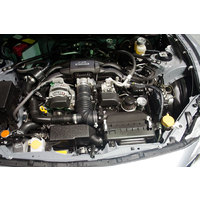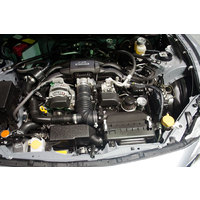 This Install Guide is intended to help with the installation of the Agency Power Cold Air Intake Kit on the 2013-18 Subaru BRZ / Scion FR-S / Toyota 86.
INSTALL DIFFICULTY:
STEP 1 – Unclip the Mass Air Flow Sensor Harness and then loosen the 2 screws. Remove the Mass Air Flow Sensor. Reinstall into the new intake tube with the 2 supplied screws.
STEP 2 – Loosen hose clamps at throttle body, air sound tube and air box. Unclip and pull out the air vent tube. Then remove the air tube.
STEP 3 – Remove the 2 bolts securing the air box. Pull air box from car and remove the rubber grommets to swap to the new intake box. (Push steel sleeve out and grommets with then slide out.)
STEP 4 – Place new air box into engine bay. Very tight fit. Bolt air box down with factory bolts. Start with back bolt to tighten then move to front bolt.
STEP 5 – Install air filter and couples on to intake tube for best fit. Place filter end into the air box and bolt half of shield into place. Secure the throttle body coupler and tighten. Install the second half of shield and tighten bolts.
STEP 6 – Tighten up throttle body coupler, air sound tube couplers, re-install vent tube into grommet and clip mass air flow harness together.
Finished – Install Complete
---
Leave a comment